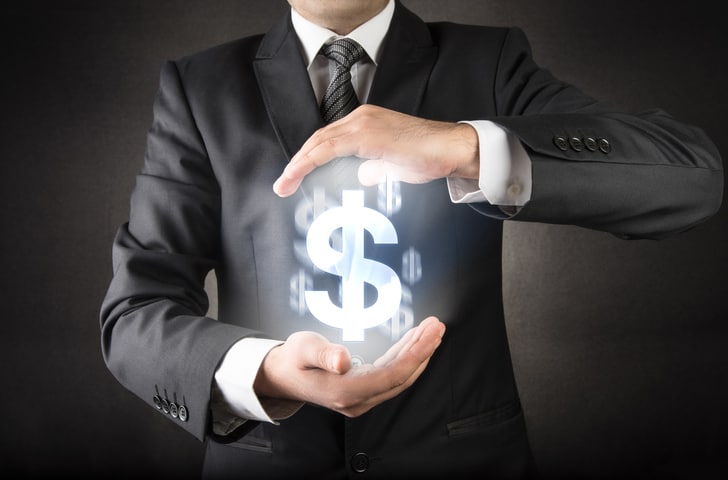 If you've watched Rogue Trader, Trading Places, Boiler Room or any other movie with a finance theme, you probably think that financial professionals make bucket loads of money.   
And while that may be true in certain circumstances, the reality is there are a lot of variables that go into what someone makes as a financial professional.
There also are disparate views about what it means to work in financial services. Some see it as working for a huge Wall Street firm while others want to set up their shop in rural towns, helping their fellow community members.
With that in mind, let's start with the average salary. According to the Bureau of Labor Statistics (BLS), Occupational Employment Statistics from May 2017, the national mean annual wage estimate is $124,140.
Different types of financial work, command different salaries. For example, if you work in securities, commodity contracts and other financial investments, the BLS estimates the annual mean wage at $133,910. Whereas, if you work at agencies, brokerages and other insurance-related activities, the annual mean wage is $89,350.
Interestingly, salaries reported on career site Glassdoor are much lower. The average base pay listed on career site Glassdoor for a financial services representative is $40,788 and $51,561 for a financial advisor trainee. However, those salaries are crowdsourced and unverified so they may not be accurate, depending on how many people are reporting and if they are telling the truth.
No matter the salary, the industry is poised for growth as baby-boomer advisors are retiring and the need to replace them is growing rapidly. The BLS seeing the number of financial advisors growing 30 percent between 2014 and 2024. U.S. News & World Report ranked financial advisor No. 3 on its list of top 25 business careers with excellent growth prospects.
Pay Structures Vary
Depending on where you work, the base salary could include a commission. Here's how it typically works.
When a financial services professional works on a commission and a client purchases an investment product they recommended, a sales charge comes out of the client's funds or sometimes the financial professional receives a payment from their company.
Other financial professionals are "fee-only" advisors. Fee-only registered investment advisors don't accept commissions, instead of working on an hourly basis, an annual fixed retainer or a percentage of the investments under management.
As an example, if a client has a $500,000 portfolio and the fee is one percent of the investments under management, the financial professional would receive $5,000 annually for the advice. Typically, the more assets a client has, the lower the percentage paid for the advice.
A third way financial professionals get paid is "fee-based", which is a blend of commission only and fee only. They can get a commission on an investment they sell you or they may charge a fee based on the assets they manage in the client's portfolio or they may do both.
Innovations in Fee Structures
A recent report by consulting firm Simon Kucher & Partners suggested the time is ripe for more innovative fee structures so that financial professionals can meet the needs of new and underserved client segments and changing market conditions. The report discussed eight innovative fee structures including:
Charging by the hour

A three-part model that includes an hourly fee or retainer plus an up-front flat fee and a fee based on assets under management

Annual fixed fees based on a client's complexity, which will affect an advisor's workload

A bundling of hours for planning packages

The Gen X Model: fees that link to income and net worth rather than assets under management because many Gen Xers don't have many liquid assets

Subscription model: client pays for services they select based on their personalities

Super retainer: one fee for standalone investment management plus fixed fees based on services delivered

Modular asset under management based: varying prices based on the level of service

Other Variables That Could Affect Salary
Your Hustle
No matter the pay structure, it's similar to being an entrepreneur. You'll get back in income what you put into it in effort and energy.  
Your Client Base
Do you have a lot of friends and family who you could rely on to become clients or refer others to you? If so, you may hit the ground running. If not, you may need to depend on some lower-income years until you become established.
Your Location
The fees you can charge and the number of high-net worth individuals may vary depending on where you live. You may need to rely on more clients with less income rather than fewer clients with more income. For example, if you are based in wealthy Greenwich, CT versus a military town like Fayetteville, NC.
Your Expenses
A lot of back office work has now been automated which help your expenses, but you'll still need insurance, continuing education, marketing and other expenses to stay in business.
Article by JL Watson. JL Watson has been a business writer for over 20 years, covering investing, personal finance, entrepreneurship, leadership and careers for Dow Jones Newswires, Forbes, and corporate clients, including New York Life Insurance and Blue Ocean Brain.  She also writes memoirs and teaches memoir writing. Her website is www.nomorecrappycontent.com and she can be reached at julie.watson@gmail.com